About Us
Meet Our Team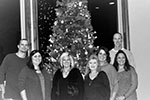 Dorman Real Estate Services was founded in 2006 by S. Todd Dorman, CCIM on the idea that real estate is a very lucrative investment for those with the expertise to analyze markets and properties to accurately predict future trends and values, the creativeness and determination to solve problems, and the willingness to work hard to properly manage the investment and to see it through to successful completion. There is, unquestionably, an art and a science to successful real estate investing.

We provide Colorado Springs property management that goes above and beyond to meet our clients' needs. Our services are best suited for owners, or potential future owners, of income producing properties that may lack time or any of the above attributes. We have the expertise to assist with both Colorado Springs commercial real estate and residential real estate. Whether it is managing, leasing, buying or selling investment property, or sponsoring group investments, Dorman Real Estate Services has built its reputation as a premier real estate investment firm over the years by producing exemplary results for hundreds of clients.

Through the guidance of Mr. Dorman who is passionate about his field, has been investing in real estate since 1992, and has been involved in hundreds of investment real estate transactions as a principal and countless others as a broker, the managers, brokers and staff who are Dorman Real Estate Services have been diligent in creating and refining processes to ensure that all the bases are covered when handling your investment, thereby lowering your risk while enhancing your reward.

We invite you to experience the Dorman distinction. We are a local Woodland Park and Colorado Springs property management company with the knowledge and experience to serve your needs. Our expertise combined with continuous communication gives you the peace of mind you deserve, allowing you to invest confidentially. Please contact us to see how we may help you. Thank you.
MISSION STATEMENT:
Provide income property owners a stress-free experience through superb communication and excellent management and leasing services.
Through the experience, creativity and problem solving abilities of our staff, we constantly strive to streamline, perfect and improve our processes and systems so that we may provide a service to our clients more valuable than its price, all while maintaining our honesty, professionalism, integrity and ethics.
Todd Dorman, CCIM®

» Broker/CEO

Todd Dorman is currently Managing Broker and CEO/Founder of Dorman Real Estate Services, Inc., a Colorado Springs based real estate firm consisting of three divisions; Dorman Commercial, Inc., a brokerage firm concentrating on sales and leasing of retail and office properties, Dorman Management, Inc. which manages over 400 properties and Dorman Investments, Inc. which forms real estate group investments and acts as Asset Manager.

Mr. Dorman is a 3rd generation real estate professional, following in the footsteps of his mother and his grandfather. Todd first got into real estate in 1992 when he made his first real estate investment, a single–family rental home. A year later, he graduated magna cum laude with a Bachelor of Science in Electrical Engineering from Iowa State University.

Upon graduation of college, he went to work for Rockwell Collins in Cedar Rapids, Iowa as a software engineer. Mr. Dorman continued investing in real estate, owning at one time 36 rental units before he was 25. He was able to purchase these properties with creative terms in undesirable areas during a down market. After years of hard work managing and maintaining these properties, his investments finally paid off and he was able to perform 1031 tax exchanges into bigger and better properties. After deciding to exit the engineering field, he moved to Colorado Springs to start a new career.

Mr. Dorman obtained his Colorado real estate license in 1996 and worked for three different firms before opening his own in 2006. In 1997 he ventured into commercial real estate investing by pooling together investors in the purchase of 2.6 acres on Powers Blvd, just in time to enjoy the major real estate boom for this corridor. A year later he opened, as owner/operator, The Sand Pits Volleybar & Grill. He has since rebranded the restaurant to BooDad's Beach House Grill and hired excellent managers allowing him to pursue his passion in real estate full time. Todd still regularly spends time and enjoys playing volleyball at BooDad's.

Mr. Dorman has enjoyed the success of creating multiple other real estate group investments and continually strives to expand on his expertise in the field of real estate investment, management and brokerage through organizations such as the CCIM Institute (Certified Commercial Investment Member – CCIM.com) and the Institute of Real Estate Management (IREM.org).

Todd's wife, Colleen, gave birth to their first child, Brayden, in October of 2004 and then again to their daughter, Allie, in July of 2007. One of Todd's favorite pastimes is coaching his son's football, baseball and basketball teams and watch his daughter swim. Besides spending time with their young children, the Dorman's also enjoy the outdoor activities offered here in Colorado such as hiking, mountain biking, camping and skiing and also enjoy traveling to new areas.

(719) 213–9100

Alex Yoder, MPM®, RMP®, CNE®

» Property Manager, Director of Residential Management & Commercial Manager & Leasing Agent

Alexander Yoder is the Director of Residential Management for Dorman Real Estate Services, Inc. He is also a commercial property manager and leasing agent.

Mr. Yoder attended Jones Real Estate College 2003 – 2004 and started with another real estate firm in 2005, initially holding the title Maintenance Manager. He was soon promoted to Leasing Agent for as many as 250 properties. Mr. Yoder started with Dorman in 2010, initially holding the title of Property Manager. He was soon promoted to Director of Residential Management

Mr. Yoder served as the 2013 President of Colorado Springs NARPM. Prior to serving as President he served as Programs Chair and Secretary in the 2011 where he obtained the "Member of the Year" award. He holds the professional designations of MPM (Master Property Manager), RMP (Residential Management Professional) and CNE (Certified Negotiations Expert). He is also a CPM (Certified Property Manager) candidate through the Institute of Real Estate Management.

He has written several published articles about property management for the NARPM's national magazine Residential Resource, the Colorado Real Estate Journal, and the Colorado Springs Real Estate Journal.

Alexander has a passion for Real Estate and investments, and looks forward to a long career in the industry.

(719) 213–9100

Betsy Madsen

» Property Manager

As a 4th generation Real Estate Professional, it seemed only natural to follow in her wise family's footsteps. In 2003, Betsy received her real estate license in Greeley, CO and hit the ground running. She became one of the top sales people in her office, but she didn't truly have a passion for what she was doing. A friend of hers asked her to manage a few of his rental properties in 2005, and then she found what she truly loved to do. She "dabbled" in both property management and sales before becoming a full-time Property Manager in 2008. She has a degree in Sociology and Psychology, and she lightheartedly says that she uses those skills every day in this business. She truly enjoys working with people.

Betsy was the Colorado Springs NARPM Member Management Chair in 2013 and 2014 and greatly believes in the strength of that community. She has gained more knowledge and dear friends through that organization than she could ever have imagined. She is also actively involved in the Pikes Peak Association of Realtors, making a point to stay connected to the community through monthly meetings and continuing education in order to ensure that she is knowledgeable and that her clients are always getting the latest and best information.

Betsy is a mom to the 2 best children ever! Her daughter recently left the nest and is doing very well in college at UCCS. Her son is an talented young baseball player, and Betsy is an enthusiastic Rockies and Red Sox fan. She loves spending weekends during the spring, summer, and fall watching MLB and youth baseball. She is excited to be a part of the Dorman team!

(719) 213-9100

Mandy Campbell

» Property Manager, Teller/Park County

Mandy Campbell comes from a military background. Her father spent 23 years in the Air Force, and instilled in her to be a person of high standards. These standards have greatly aided her in her career as a professional property manager. After her father retired, her parents brought her to Colorado Springs in 1989.

Mandy began her journey in real estate when she was 20 years old, starting out as a Receptionist. She soon worked her way up to Office Manager, and eventually obtained her real estate license to practice property management and sales. Once she became a property manager, she fell in love with it! She became a licensed agent in 2006 and brings those years of experience to the Dorman organization.

She moved to beautiful Teller County, Colorado in 2004 and has lived there ever since. She looks forward to a long career in professional property management, and providing her clients and tenants with unsurpassed service!

(719) 623-1000
Dorman Real Estate Services
2760 North Academy Boulevard #209
Colorado Springs, CO 80917
Phone: 719–213–9100
Phone: 719–597–RENT (7368)
Fax: 719–550–0933
---

Owners
Property Management
We offer a wide range of property management services to fit your needs as a landlord or home owner.

---